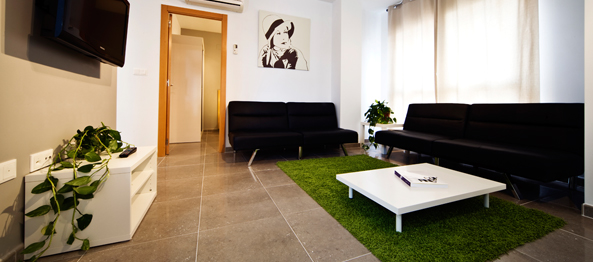 accommodation
Enjoy the seafront
Marina Suites apartments are located in the best area of Castellón Grao. Walking can enjoy Port Azahar, the busiest area of ??the city, casino, cinemas, the square by the sea, restaurants, pubs, bars, golf, beach and everything you need to liven up your holiday or working stay.
Our facilities consist of a block of 23 apartments of 1, 2 and 3 bedrooms and an entire floor for common areas such as (living room T,V., living area, reception, meeting rooms.
On request we can arrange with the client the basic services necessary for their comfortable stay (cleaning and laundry service on request, concierge service, luggage storage, wifi, work center …). Also in the same building on the same ground floor there is a cafe, a hairdressing salon / spa and a space to park bicycles.
We have strived to provide the necessary services and space, which is gives us the advantage over hotels.
Here your family can stay at one of our apartments with kitchen, living room, two bathrooms and two bedrooms, for the same price or less than a hotel room.
Interior facilities, equipment, complementary services are all available 24 hours a day and 365 days a year.
We are professionals: we only want to please our clients and consider our offer is reliable and consistent.
All our apartments are located in front of the Marina promenade, with incredible views from the large windows.
Apartments are fitted with designer furniture, fully equipped with free wifi, A.C. in the living room, heating in all rooms, if needed a cot, high chair and folding beds all included in the price.
We also have bright and spacious common areas, games room, TV, reception, a meeting room for presentations and electric/manual bicycle rental service.
If you wish to book any of our extra services mentioned you should do so by telephone. If you have booked services by telephone and you no longer request them please inform us by telephone to cancel them.